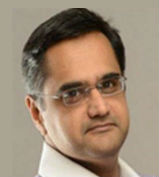 Tim Cook, CEO Apple Inc said during his visit "India is much more strategic. We are thinking about a really long innings in the country. We are here for next thousand years". If you are a global insurer or reinsurer or in any way related to the Life, Health and Disability insurance business, it would definitely be the right decision to come, explore and experience ICLAM Mumbai 2019.
After a long gap of over 30 years, ICLAM Congress will return to Asia, to be held in Mumbai, India in 2019. Welcome to ICLAM Mumbai 2019,"where the East and West meet". I would like to thank you from the bottom of my heart for taking time to visit this website and considering attending ICLAM Mumbai 2019.
As an Underwriter, a Doctor working in or with interest in field of insurance medicine, a Claims Assessors, a Product or Pricing Actuary, a person working in area of InsurTech or a TPA, you will greatly benefit from the state of art presentations, concurrent and satellite sessions to bring about a better understanding on how combination of insurance, technology and medicine will impact your business. With delegates coming from India, America's, Europe and rest of Asia-Pacific, you will get an opportunity to share ideas and understand views from a truly global perspective.
ICLAM Mumbai will be a place "where the East and West meet" in more than one way. It is great to have stimulating and intelligent discussions, but there is no harm in having some fun while doing this and ICLAM Mumbai will make every effort to bring together people, food, culture and fun in more than one way.
Lastly, while you are in India, don't forget to take a holiday before or after the conference with your loved one. India pulsates with a spectacular mix of people, traditions and landscapes. Your journey through this mind-stirring country will blaze in your memory long after you've left its shores…
ICLAM Mumbai promises to be a journey "of the mind and of the soul"- enlightening, balancing and happy.
We look forward to seeing you soon
Dr Himanshu Bhatia