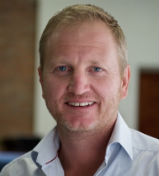 VP for Business Development and Strategy at LifeQ, responsible for building global partnerships to deliver solutions based on LifeQ's information platform. Key focus is working with partners to: Re-imagine the potential of wearable devices as sources of valuable health information; Fundamentally change insurers' approach to user engagement, data gathering and risk assessment, and; Enabling and augmenting health management solutions with previously unavailable information flows, working to make a preventative approach to healthcare a reality.
Currently based out of Stellenbosch South Africa, building on 17 years in Europe. First completing an MBA at Sheffield University and then working in specialist research and strategy consulting firms as well as a bluechip global commercial strategy role.
When not completing another circumnavigation of the globe chasing LifeQ's partners, can usually be found chasing my kids around a sports field or a little white ball while ruining a perfectly good walk!