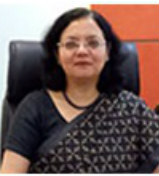 Malti Jaswal
Senior Consultant with World Bank, working for Ayushman Bharat PMJAY.
She is a post graduate from Delhi University and has worked with general insurance industry since 1986 and with health insurance industry since 2008 in various leadership roles.
She isan active member ofindustry multi-stakeholder working groups/committees on health insurance. She has published many papers on health insurance claims management, RSBY technology platform, Universal Health Coverage etc.and has developed a Certification Course on Health insurance for Insurance Institute of India, comprising of 3 Books– Basics of Health Insurance, Health Insurance Claims Management and Health Insurance Operations.
She is a member of IRDAI Health Forum and is also leading IRDAI-NHA joint sub-group on fraud and abuse control.