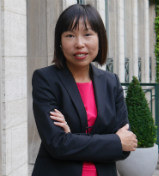 Irene NG
IRENE NG is the Principal Officer of Gen Re Singapore and Labuan. She oversees the Life and Health business in ASEAN region, working closing with direct insurers to provide product solutions to meet the needs of both developing and developed markets.
Concurrently, Irene is also the Regional Chief Underwriter and Head of Claims for Gen Re Life/Health for ASEAN, China, Hong Kong and India. In her more than 20 years with Gen Re, Irene was also involved in different roles including marketing, product development, and business development.
She is a frequent speaker at both Gen Re led and industry conferences and authored numerous articles for Gen Re's industry publications.Irene is a Fellow with the Institute of Banking and Finance (IBF), a Fellow with the Academy of Life Underwriters, and an Associate of the Chartered Insurance Institute. Irene is also currently the Convenor of the Underwriting & Claims committee of the Life Insurance Association in Singapore.