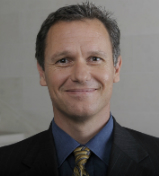 Dr John Schoonbee | Global Chief Medical Officer | Director | Life & Health Products
Swiss Reinsurance Company Ltd | Mythenquai 50/60, 8022 ZURICH, SWITZERLAND
Direct: +41 43 285 44 65 Fax: +41 43 282 44 65 Mobile: +41 79 576 12 91
E-mail: John_Schoonbee@swissre.com
About Biography
Dr John Schoonbee is a medical doctor who qualified from the University of Cape Town in 1995. He has been working in the insurance field for over 20 years, and directly for reinsurers since 2005. John began working at Swiss Re in 2011 and is based in Zurich.
He is involved in many aspects of life insurance, including product development, risk and claims assessment, as well as helping with pricing some of the more complex medical life and health products. John became Swiss Re's Global Chief Medical Officer in 2017 and works with a team of over 15 permanent and consultant medical doctors, in addition to focusing on underwriting R&D and key global health topics.
He recently initiated a collaboration between Swiss Re and The BMJ to host a seminal event on reassessing Nutritional Science due to the clear link between diet and the catastrophic effect on non-communicable diseases.