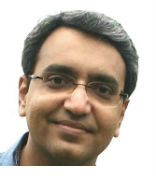 Head – Insurance Products & Analytics, TransUnion CIBIL
Kartik has spent over a decade working on a wide range of actuarial and data science problems across life insurance, general insurance, pension and healthcare domains for clients spread across India, North America, Europe, Middle East, and South-East Asia.
At TransUnion CIBIL, Kartik is leading insurance products and analytics teams working on innovative applications of credit and alternate data in solving critical challenges of the Indian insurance industry.
Prior to this, he has lead the India analytics team at LexisNexis working on industry level contributory databases of life, motor and health insurance areas. He has also lead fraud analytics pilots for Ayushman Bharat and General Insurance Council of India.
He has also worked with AXA and EXL on consulting assignments in actuarial, data science and embedded analytics for insurance operations.
Kartik has authored and presented a research paper on machine learning in rare insurance events at Indian Institute of Science.
He is also associated with National Insurance Academy in training insurance professionals on applying data science in solving business problems.
Kartik has an MBA (Insurance) from National Insurance Academy. He is also a student member of Society of Actuaries and Casualty Actuarial Society.