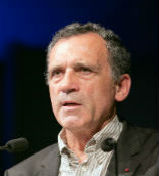 MD, PhD.
Xavier Bigard is a sports physician, scientist in exercise physiology, muscular biology and nutrition.
He is Professor of the Val-de-Grâce High-School (Paris), and has spent most of his career as a researcher in the French Army Health Service, where he has developed research on the adaptation of humans to physical activity and extreme environments.
Pr. Bigard served as scientific advisor to the French anti-doping agency where he was responsible for scientific monitoring and research orientations around the hormonal, humoral and pharmacological factors involved in the modulations of physical performances.
He is also a researcher in sports nutrition at the French Institute of Sport, Expertise and Performance (INSEP). Since 2018, he has been Medical Director of the International Cycling Union (UCI), whose mission is to optimize the policy of prevention of risks and to preserve the health of top-level cyclists.
He led several working groups that defined recommendations of physical activity for the primary prevention of chronic diseases for the general population, and tertiary prevention for cancer patients.
He contributed to the writing of official texts allowing physicians to prescribe physical activity as a medicine.