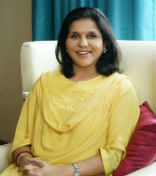 Dr. Sangita Reddy is the Joint Managing Director of the Apollo Hospitals Group, which is widely acknowledged as the pioneer of private healthcare in India and a proponent of integrated healthcare, since its inception in 1983, Apollo Hospitals has touched the lives of over 50 million individuals from 140 countries.
She guides the IT and Human Resources functions and is greatly responsible for evolving the patient-centric culture, a signature of the organization.
Guiding innovation across the group she has spearheaded multiple initiatives like Apollo Sugar, Telemedicine and E-ICU.
Passionately committed to transforming healthcare using effective and efficient technology, she has steered Apollo Hospitals to harness technological advancements in accelerating positive transformation.
She was also instrumental in the group's retail and primary healthcare expansion, leads the Education initiatives of the group and led a partnership between Apollo Hospitals and the National Skill Development Corporation.
Dr. Sangita Reddy was nominated by Government of India as a Member of the Technology Development Board, Department of Science and Technology.
She is an Independent Director on the board of many companies and a member of the Rockefeller Working Group focused on the private sector's role in global healthcare.
She was conferred with the Honorary Doctorate by Macquarie University, Sydney, Australia.
Dr. Sangita Reddy is also the Senior Vice President of Federation of Indian Chambers of Commerce & Industry.