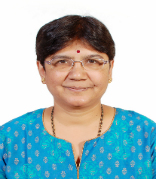 Dr Shubhangi Rairikar has done her M.D. in Pathology from Seth G.S.Medical college and KEM hospital Mumbai .
She has over 24 years teaching experience of undergraduate medical, dental students and Para clinical courses. She is also an accredited guide for Postgraduate pathology students for 5 years. She has worked as lecturer at KEM hospital and as Associate professor at DR V.Pawar Medical College .She is currently attached as Associate professor (Histopathology) at S.M.B.T Medical college Dhamangaon Nashik.
Histopathology related to gynecology and soft tissue tumors are her focus areas .
She is passionate about teaching and loves to read all genres of fiction