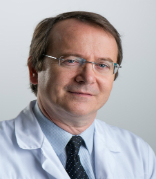 Education: Board certify in Medical Oncology. MD & PhD graduations at the Pierre et Marie Curie Paris 6 University, France.
Curent & past positions: Head of Medical Oncology at Paris Saint-Joseph Hospital Group. Professor of Medical Oncology at Denis Diderot Paris 7 University & consultant in medical oncology at Bichat Hospital. Former Chair of Oncology at the University Hospital Paris-Nord Val-de-Seine (HUPNVS) Comprehensive Cancer Center (APHP), UMR 1149 INSERM, France. Former 'professeur ordinaire' & Chair of Medical Oncology at of the Centre Universitaire Hospitalier Vaudois (CHUV) & University of Lausanne (UNIL), Switzerland. Former assistant professor and head of the phase I program at the Gustave-Roussy Institute, Villejuif, France. Former project director at CTRC-IDD, Univesrity of Texas Health Science Center, USA. Former Chef de Clinic at Saint-Antoine Hospital, Paris, France
Medical background: Head and initiator of the Medical Oncology service for 10 years in Beaujon (APHP), Clichy, France and head of the Medical Oncology service for 2 years in CHUV, Lausanne, Switzerland. In both cases, oncological activites account for about 500 new patients/year, oncology being integrated to develop care in harmony with organ specialists, internal medicine, emergency care units, imaging services, biology, and pathology in the frame of multidisciplinary university hospitals. Experienced in medical and paramedical team building, services were also organize for teaching and bedside education of graduated medical students with 2 residents (internes) with one Chef de clinique and 20 residents with 10 chefs de clinic, in France and Switzerland, respectively. Medical activities have focused on budget compliences, administration and management, quality and optimization of out- and in-patient cares (in compliance with the Hospital directions and French NCI guidelines), as well as treatment innovations.
Research background: Principal Investigator of >80 clinical trials, including phase I, II, and III studies. Researches have been focused on molecular pharmacology, translational research, and early phase clinical trials (phase I and early phase II). Some of previous works were seminal in the development of phase III trials and registration of some drugs such as oxaliplatin, sunitinib, temsirolimus, and everolimus. The research teams recently focused on development of novel anticancer drugs that interact with epigenetic factors, tumor microenvironement including antiangiogenic agents and drugs affecting tumor metabolism, as well as tumour biomarkers for precision medecine in a variety of tumors including Head & Neck carcinomas, neuroendocrine tumors, pancreatic adenocarcinomas, brain tumors, sarcomas, colorectal cancer, and hepatocarcinomas. Translational works include blood and tumor tissues biomarker analyses using various methods of genomics and proteomics.