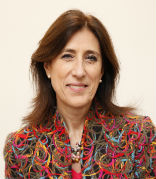 Dr. Villanueva holds a Medical degree from University of Navarra Spain, an MBA from the University of Houston, Texas, USA; a Master in Life and Health Insurance from INESE (Spanish Insurance Institute), a Master in Health Law from the European University of Madrid, Spain and a PhD in Medicine from the European University of Madrid, Spain. She has more than 25 years of experience in Health and Life insurance where she has been Chief Medical Officer in direct insurance and Chief Medical Underwriter and Chief Medical Officer for reinsurance. She is actively involved in the implementation of new medical advances and technologies in risk assessment and underwriting decisions. She is currently Global Chief Medical Officer at Mapfre Re.
She is a board member in ICLAM (International Committee for Insurance Medicine), founder member and President of ELHUA (European Life & Health Underwriting Association), member and head of the Biomedical section at the Spanish Association for Insurance and risk management (AGERS), member of the International Association of Insurance Law (AIDA/SEAIDA), member of the American Academy of Insurance Medicine (AAIM), member of the British Underwriting and Insurance Medicine Association (AMUS), member of the Italian Insurance Medicine Association (AIMAV) and member of the Argentinian Insurance Medicine Association (SAMS).
Dr. Villanueva collaborates with different institutions and universities in the field of personal insurance and is a regular lecturer on risk assessment, process management and product development.