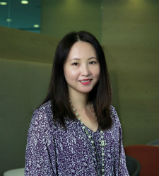 Teresa joined Swiss Re in 2004 and is currently Head Underwriting Innovation & Initiatives Asia since July 2015. Her key responsibilities include overseeing forward- looking underwriting solutions enabling acceptance of risks, and innovations on product development.
Between 2004 and 2009 Teresa was the Senior Underwriting Consultant for Hong Kong and Taiwan. She was promoted to Head of Underwriting Hong Kong, Taiwan and SEA in 2011, and further moved to a regional role as Deputy Chief Underwriter Asia in 2013.
Teresa started her underwriting career with AIA(B) Hong Kong. Prior to joining Swiss Re Teresa was the Assistant Manager overseeing the Life and Health underwriting operations. She holds a BSc (Hons) in Nutrition from the University of Tennessee, Knoxville. In addition, she is a Fellow of the Life Management Institute and the Academy of Life Underwriting.