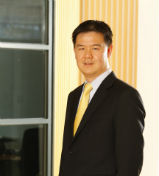 Lawrence Tsui was born in Sydney, Australia and graduated from the actuarial program at Macquarie University. He qualified as a fellow of the Institute of Actuaries of Australia in 1997, joined Swiss Re in the same year and has worked for Swiss Re in Australia, Switzerland, Singapore, and Hong Kong.
He is currently Global Products Actuary, responsible for costing and development of L&H products (mortality, disability, critical illness, medical, etc.) as well as technical review of large and structured L&H transactions for Swiss Re across the globe.
During his career, Lawrence has been heavily involved in the pricing, product design and risk management of life and health business with a particular focus on Asian markets. He is the author or co-author of various papers and has presented at various industry conferences in Asia and Australia on topics related to cancer and critical illness, health care, longevity, and behavioural economics. Lawrence has been a member of the Actuarial Society of Hong Kong (ASHK) Health care Section since 2011 and is the ASHK's liaison for the International Actuarial Association Health Section.