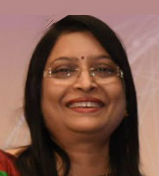 Deepa Pandit has over 30 years of experience in the life insurance industry. She has previously held senior positions in Underwriting, Claims and Product Development in leading Life Insurance Companies in India. She has also had a stint with the Reinsurers, where she was responsible for the Underwriting and Claims Services for South Asia. As a part of the leadership team in her earlier roles she was instrumental in making regulatory submissions and obtaining licensing approvals from the Indian regulator. She has also led the setup of a variety of processes and technology platforms in start-up insurance companies in India. Her exposure to technology and systems in the early part of her career provides her with a useful perspective in handling complex projects covering the entire range of policy administration matters. She has successfully undertaken projects in the underwriting area that increased productivity and achieved process and cost optimization for a large international insurer.
A Bachelor of Science (Statistics & Computer Programming), M.Sc. Statistics from Mumbai University and an Associate of Institute of Actuaries India, she was the founder secretary and past President of AIU, holding the post for 5 years. She spearheaded the Underwriting Diploma launched by AIU, in collaboration with Insurance Institute of India.
She currently holds the post of Treasurer in ICLAM-2019 to be held in India.