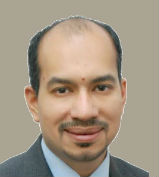 Mahaveer Chandiwala joined Munich Re in 2012. He has about 16 years of risk management experience in the life insurance and reinsurance industries of South Asia & South African market. He heads Munich Re's Underwriting and Claims team for India branch. Prior to joining Munich Re Mahaveer led the Underwriting and Claims function of an American reinsurance company, where he worked for more than 7 years developing efficient risk management methodologies and practices.
His expertise includes developing underwriting and claims guidelines, training clients, performing reviews at client offices, managing facultative underwriting and implementing automated underwriting tools. He has also managed several projects including a pilot of underwriting USA sourced business in India.
Mahaveer has international experience and during a 2 year stay in South Africa he gained significant exposure to product developments, group business, business management and actuarial pricing techniques. Mahaveer is a regular speaker at insurance and underwriting conferences and has presented at seminars in India and various international locations. Mahaveer has also presented at the Global Conference of Actuaries in 2009.
Mahaveer is a pharmacist by qualification and is a fully qualified member of the Academy of Life Underwriting. He is also a founder member and past Treasurer of the Association of Insurance Underwriters in India. He is also currently working in the capacity of secretary for International committee for Insurance Medicine (ICLAM) 2019 to be held in India.