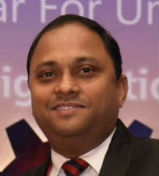 Ganesh Iyer
B.Sc. (Chem.), A.C.A.
Chief Executive Officer
Iyer's Pro-Risk Business Solutions Pvt. Ltd.
Founder Member and former President of Association of Insurance Underwriters of India [AIU].

Founder President of Association of Insurance Claims Management of India [AiCM].

Founder Executive Committee Member of Association of International Committee for Insurance Medicine, India [ICLAM].

Resident Editor of one of India's oldest insurance Magazine The Insurance Times.

Ganesh is associated in the capacity of a Life Insurance Expert & Advisory to :

Institute of Chartered Accountants of India (Forensic Accounting & Fraud Prevention Course)

Birla Institute of Management Technology (BIMTEC)

Risk Management Association of India [RMAI]

He is a Chartered Accountant with hands-on Life Insurance Experience of Operations, Underwriting, Claims & Risk Management apart from normal processes & audit experience, who is a known Industry Expert in the domain of Risk Management, Corporate Governance & Solution Orientation.

He was a Senior Vice President of Kotak Life Insurance, heading Customer Value Management, Business Analytics, Underwriting, Claims & Rural Business & Protection Strategy. During his long stint of 16 + years in Kotak Life Insurance, Ganesh has headed various other portfolios like Process Assurance, Audits and Enterprise Risk Management, Management of Frauds & Risk Controls including field investigations & forensic cases, Projects Management & Operations Excellence and Business Information Security.

With rich industry experience behind him, he bid a bye to the Corporate Service in June 2017 and started his own Strategic Business & Risk Management Solutions Company Iyer's Pro-Risk Business Solutions Pvt. Ltd., where he is associated with many Companies in the domain of Life Insurance, Pharma, Analytics, IT and IT Enabled Services, Data Repository, Health & Wellness Care.