---
About ICLAM

The ICLAM Congresses have become since 1935 the international benchmark for congress aimed at scientific training, interactive discussion and networking on topics related to risk underwriting – and more recently in claims assessment. It has a proud tradition and is well respected for the high quality of its faculty and presentations. Know more at www.iclam.org.
---
About ICLAM Mumbai 2019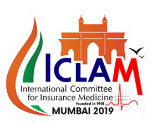 ICLAM was last held in Asia in Tokyo in 1986. After a long gap of 32 years, ICLAM Congress 2019 will return to Asia, to be held in Mumbai, India under the auspices of "Association of International Committee for Insurance Medicine", referred to below as "ICLAM Mumbai 2019"
The Audience: The ICLAM Congresses traditionally bring together over 300-400 insurance doctors, underwriters, claim evaluators and actuaries in scientific debate and social activities. By combining the forces and expertise of AIU, AICM (Association of Insurance Claims Management), IMOK (Insurance Medical Officers Klub) and ICLAM, as members of the organizing committee of ICLAM Mumbai 2019, we are confident that ICLAM Mumbai 2019 will bring in a large audience from India and various countries in the East (South East and Far East), Australasia, Europe and Americas.
The academic event: The international insurance industry faces a large number of challenges. Evidence-based underwriting & claims assessment, swift adaptation to new regulations, rapidly changing technology and medical advances, and changing consumer behaviors' are now key trends in insurance industry world-wide. Each session of the event will focus on a particular market and/or a key issue. By being part of this one event, the audience will be able to engage with the experts across the region on the most relevant topics in an interactive manner.
The social events: While we all love intellectually stimulating discussions, there is no harm in having some fun along with it. The social events we plan will bring everyone together to highlight the culture and food of different regions and make this event a memorable one for all participants and their partners.
We look forward to your participation in this premier industry event, and to welcoming you in Mumbai in 2019.